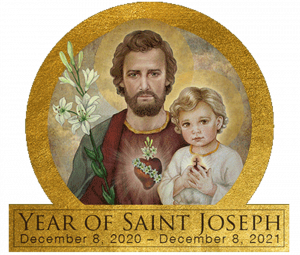 Let us join our prayers with St. Joseph's, asking for him to help us to grow closer to God.
Our Act of Worship can be found by opening this link: St. Joseph's Video Liturgy
---
Pope Francis has dedicated this year to St. Joseph, under the title "Patris Corde": With a Father's Heart. He concluded this letter stating that its aim was to:
Increase: Increase our love for this great saint
Implore: To encourage us to implore his intercession
Imitate: To imitate his virtues and his zeal
This is a particularly poignant theme as we know that Joseph was Jesus' step-father; not his actual father – but he was a father to him nonetheless. This reminds us that all family life (in whatever form that takes) is sacred. Due to this reason, amongst many others, Joseph is the patron saint of families. He knows the joys, and the struggles, of what it means to be a family.
Along with our diocesan, national and international faith family, we lifted up our hearts in prayer with a Novena to St. Joseph. This 9-day period of prayer ended in advance of St. Joseph's feast day on the 19th March. On this day, we celebrated St. Joseph through regular opportunities for prayer, our work and our actions.
Our Novena was shared on Twitter each day – you could start your own Novena to St. Joesph any time! We also said the prayer below daily:
St. Joseph,
Watch over me and care for me
Just as you cared for the child Jesus;
And, by your help,
May I come to know your Son and grow
In strength
And wisdom
And the favour of God.
Amen.
St. Joseph, pray for us.
---
NPCAT Family Prayer Resources
NPCAT has made a number of resources to support with family devotion to St. Joseph at home.
You can access them using the links below.
Joseph, patron saint of families, pray for us.
March YoSJ family prayer resource
October YoSJ family prayer resource (below):
---
Monthly Dedications
This year to St. Joseph is not designed to be a one-off; rather, it is given for us to refresh our devotion to Joseph. Along with our NPCAT family, we will use opportunities throughout the year to become closer to God, through Joseph. This is something you may wish to do at home too.
Month
Title/Theme to Reflect
Suggested activities:
March
Head of the Holy Family

April
Protector

Explore those who keep us safe and protect us.
Write prayers for 'protectors'
Reflect on who and what we need to protect
Link to stewardship and Pope Francis' encyclical, Laudato Si: Care for Our Common Home and activities from CAFOD:

https://cafod.org.uk/Education/Primary-teaching-resources/Laudato-Si-for-children4

May
St. Joseph the Worker

Reflection on all work being 'holy work'
Dedicate a piece of work or work book to God
Create a prayer offering up work to God to be said at the start of each lesson

June
Patron Saint of Fathers

As part of Father's Day, celebrate all fathers and father-figures. Emphasise St Joseph's role as foster-father to Christ and his willingness to do this.

July
Patron Saint of Travellers

Link with Leavers' events. Could St Joseph's intercession be sought as part of prayers for leavers?
Create a prayer card for leavers, with prayers for St Joseph's courage, protection and guidance, as well as reminding pupils of the school family to which they will always belong.

September
Inspirer of Courage

To commence the new school year, invoke the intercession of St Joseph to give courage for the year ahead. This could be part of whole-school prayer and worship or a start of year Mass.

October
Husband

In the month of the Rosary, celebrate St Joseph as spouse of Mary. Perhaps prayers about family life and reflecting on the inspiration of the Holy Family could be incorporated into your Rosary reflections.

November
Patron Saint of the Universal Church

As the feast of Christ the King approaches, reflect upon St Joseph as the patron of The Church, generating prayers for:

The Universal Church
The Holy Father
The parish
Parish priests

December
Patron Saint of Migrants

Through Advent, reflect upon the journey of the Holy Family and their role as migrants. Perhaps a depiction of the Holy Family could travel throughout school, journeying to each classroom or prominent Prayer Stop spots. These might be paired with images of migrants, refugees and asylum seekers to link their plight and need for compassion and support.
---
Sleeping St. Joseph Devotion
"So when I have a problem, a difficulty, I write a little note and I put it underneath Saint Joseph, so that he can dream about it! In other words I tell him: pray for this problem!"
~Pope Francis
"But when he had considered this, behold, an angel of the Lord appeared to him in a dream, saying, 'Joseph, son of David, do not be afraid to take Mary as your wife; for the Child who has been conceived in her is of the Holy Spirit. She will bear a Son; and you shall call His name Jesus, for He will save His people from their sins.'" ~Matthew 1:20-21
On January 16, 2015, Pope Francis gave a speech in the Philippines about his love for St. Joseph. He described his special devotion to the sleeping St. Joseph. You can read about St. Joseph's dreams in Matthew 1:18-25 and 2:13-14.
Here are a few selected quotes:
"I have a great love for St. Joseph, because he is a man of silence and strength. On my table I have an image of St. Joseph sleeping. Even when he is asleep, he is taking care of the Church!"
"Joseph's rest revealed God's will to him. In this moment of rest in the Lord, as we pause from our many daily obligations and activities, God is also speaking to us."
"But like St. Joseph, once we have heard God's voice, we must rise from our slumber; we must get up and act."
Below are some ideas for sharing the Sleeping St. Joseph Devotion with children, ranging from youngest to oldest:
Colour the Sleeping St. Joseph colouring page and share prayer requests for St. Joseph. Talk about how St. Joseph protected and provided for the Holy Family, and how he protects and provides for the Church.
Colour, fold, and tape the Sleeping St. Joseph statue to create a prayer pillow. Slide prayer requests inside the pillow. Another variation is to fold the statue like table tent so it stands up. Prayer requests can still be added inside.
Read Matthew 1:18-25, discussing how St. Joseph rested in God, listened to Him, and then acted on His instructions.
Colour one of the Sleeping St. Joseph pages or Pope Francis quote pages. Discuss Pope Francis' wisdom about St. Joseph and his role for us and the Church.
Use the Sleeping St. Joseph booklet to talk about Pope Francis' speech and devotion to St. Joseph with the selected quote and discussion questions. Write down prayer requests for St. Joseph.
Read the stories of St. Joseph (Matthew 1:18-25 and 2:13-14) and Joseph, son of Jacob (Genesis 37, 40, and 41). Compare how God used dreams in their lives and how they responded.
Read the full text of Pope Francis' speech and discuss his teaching on St. Joseph, prayer, and the family.
Identify the virtues of St. Joseph and how we can emulate him.
Below are a number of activities and resources that you may wish to use to support your devotion to St. Joseph (all taken from https://www.looktohimandberadiant.com/2017/03/sleeping-st-joseph.html – external source. May contain affiliate links and external sources not approved by school):