Mini Vinnies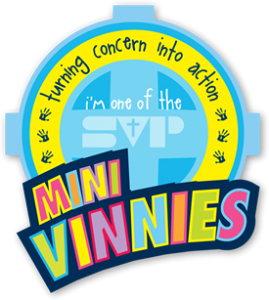 The Society of St. Vincent de Paul (SVP) is an organisation that strives to spread justice in our world. The Mini Vinnies is the branch of this group in which children can work to make a difference in the world.
Visit the Mini Vinnies website by clicking on this link
In St. Edward's, we know how important it is to put our faith into action. Our Mini Vinnies group helps to spearhead campaigns and initiatives in school.
Who was St. Vincent de Paul?
Vincent was born poor and in the beginning he wanted to be rich. This was why he first became a priest!
Later he changed his mind and decided to spend his life helping the sick and mentally-ill, orphans and old people, beggars and the starving, prisoners and galley slaves.
Vincent's life is a great reminder for us all to find ways to help those around us.
What do Mini Vinnies do in St. Edward's?
In our group, we organise a range of events and initiatives in school. We have organised fundraisers, supported with the Mission Together project and collected food for local food banks. Check this page regularly for updates of what we have been doing in school and in our community.
How often do we meet in Mini Vinnies?
We will meet each fortnight to review our actions over the past two weeks and plan our next steps based upon current events, the Church calendar – or in any way that we feel inspired!
How can I become one of the Mini Vinnies?
Come and see Miss Melvin any time to discuss being part of our Mini Vinnies team.