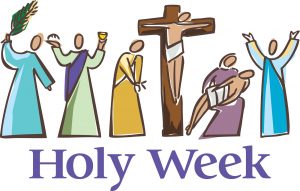 After the sombre date of one year in lockdown passed recently, it served to remind us of all we have been through – but also how much we have been able to persevere and rethink how we can remain connected as communities.
This one-year anniversary also means that this is the second time that we cannot worship together during the most sacred week of our Church's year. But, just as we have innovated in the way we connect with one another over the past year, so must we innovate how we come together to worship too.
All of the children in school, from Year 6 to Nursery, have guided us through the Stations of the Cross which will be shared here – and on our website – throughout Holy Week.
Today, let us reflect on the first stages of Christ's final journey through Jerusalem with the 1st-4th Stations, led by Year 6 and Year 5.
---
We continue walking with Jesus through the streets of Jerusalem in the 5th-7th Stations of the Cross, led by Year 3/4.
---
Jesus's journey, in Stations 8-11, ends on Calvary or Golgotha: the place of the skull. He gives up everything in order to save us all. Year 2 and Year 1 lead us in our prayers.
8th-11th Stations of the Cross
---
Jesus breathes his last on the cross. His family and friends felt lost without him. Reception and Nursery guide us through the 12th-14th Stations of the Cross.
12th-14th Stations of the Cross
---
Holy Week is the most solemn time in our Church's year. We walk with Christ through his suffering and death but we know this is not the end! Christ rose again so that we may all have life in Him.
While we cannot come together to pray as usual, and many of us are unable to attend the special liturgies in church, we have prepared a list of suggestions for how you can mark Holy Week at home as a family.
You could read the Gospel from Mass each day and there are suggestions for videos to watch, crafts to make and foods to eat, each rooted in the spiritual focus for the day to help us to journey through Holy Week with Jesus. Please see the attached document for these ideas.
We are wishing you all a blessed Holy Week.
Please note: Throughout the suggestions, you will find links to external websites. Although we have made every effort to ensure these links are accurate, up to date and relevant, we cannot take responsibility for pages maintained by external providers.  We take no responsibility for information contained on external links. Views expressed on webpages – or on external sites to which they may they link – are not necessarily those of the school itself.